Perk up with a fresh cup of this exquisite white tea blended with organic blueberries and a touch of sweet-tart hibiscus, guaranteed to turn any frown upside down! Known for its detoxifying and stress-relieving properties, white tea contains the highest antioxidant level of all teas. A study done on both men and women who were given Hibiscus tea to drink daily found after just 12 days that hibiscus helped lower blood pressure significantly in patients with mild to moderate hypertension. So whether you're looking to lower your blood pressure or just want to get some antioxidants flowing through your body, we think you should give this tea a try! This is our most popular tea iced and is even used in our jams and in a shortbread recipe.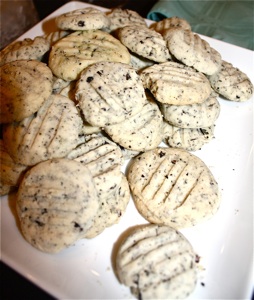 "Got the Blues?" Tea infused Shortbread Cookies
After our feedback from the What Women Want Expo, we wanted to share our "Got the Blues?" tea infused shortbread cookies with you!
What you need!
1/2 cup cornstarch
1/2 cup icing sugar
1 cup all-purpose white flour
1/2 cup Tea Time in Cayman's Got the Blues? loose leaf tea leaves
3/4 cup butter
What to do!
Pre-heat oven to 300 degrees Fahrenheit.
Crush tea leaves and add to a large mixing bowl.
Add in the cornstarch, icing sugar, and flour.
Cut in the butter with a wodden spoon.
Roll dough into small balls and add to a cookie sheet. Press each ball with a fork.
Bake for 18-20 minutes.
Will make 20-25 cookies.
Enjoy!
100% organic white tea, 100% organic fair trade certified hibiscus, 100% organic blueberries, and natural blueberry flavour.
25g makes: 25 cups (based on 3g per 8oz of water, infused 3 times)
Temperature: 185 degrees F (not boiling)
Infusing time: 3-5 minutes