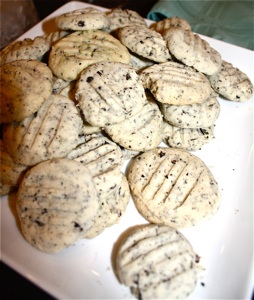 "Got the Blues?" Tea infused Shortbread Cookies
What you need!
1/2 cup cornstarch
1/2 cup icing sugar
1 cup all-purpose white flour
1/2 cup Tea Time in Cayman's Got the Blues? loose leaf tea leaves
3/4 cup butter
What to do!
Pre-heat oven to 300 degrees Fahrenheit.
Crush tea leaves and add to a large mixing bowl.
Add in the cornstarch, icing sugar, and flour.
Cut in the butter with a wodden spoon.
Roll dough into small balls and add to a cookie sheet. Press each ball with a fork.
Bake for 18-20 minutes.
Will make 20-25 cookies.
Enjoy!